This page is a resource for Monroe Country, PA residents, businesses and travel and tourism partners and visitors on factual information about Coronavirus Disease 2019 (COVID-19). We will continue to make regular updates to this page as necessary. Please feel free to share this resource with anyone whom you know who can benefit.
GLVCC Public Policy Update
Dear Chamber Members,
During this time of uncertainty, The Chamber's Public Policy team will provide you with the most current state and federal information that you can use right now for your business and your employees.  There are a number of proposals to implement funding solutions for business in both Harrisburg and Washington.  We thank our public officials for recognizing that business needs assistance now as you work to stay above water and be helpful to your employees.
We continue to be in daily communication with our legislative leaders and staff to monitor progress and will update you immediately on results from which you may be able to benefit.
Please contact us (contact information below links) with any questions you may have and we will be back to you asap.
Thank you.
Michelle
Public Policy Team Contact Information:
Pocono Mountains United Way
Crisis Response Fund - A coalition of philanthropy, government, and business partners has joined together to create the Monroe County Crisis Response Fund that will rapidly deploy flexible resources to organizations in our region working with communities who are disproportionately impacted by the novel coronavirus (COVID-19) and the economic consequences of this health crisis.
Pocono Mountains Visitors Bureau
Association of Chamber of Commerce Executives:
CDC & U.S. Travel:
The U.S. Travel Association and the Centers for Disease Control & Prevention (CDC) held back-to-back calls Wednesday, March 4 to keep everyone aware of what's happening globally and here at home with COVID-19. Here is a link to the summary from those calls.
There will be updated guidance on the U.S. Travel website here: U.S. Travel toolkit
The CDC also provides updated guidance here: CDC Coronavirus response
COVID- 19 Know Your Symptoms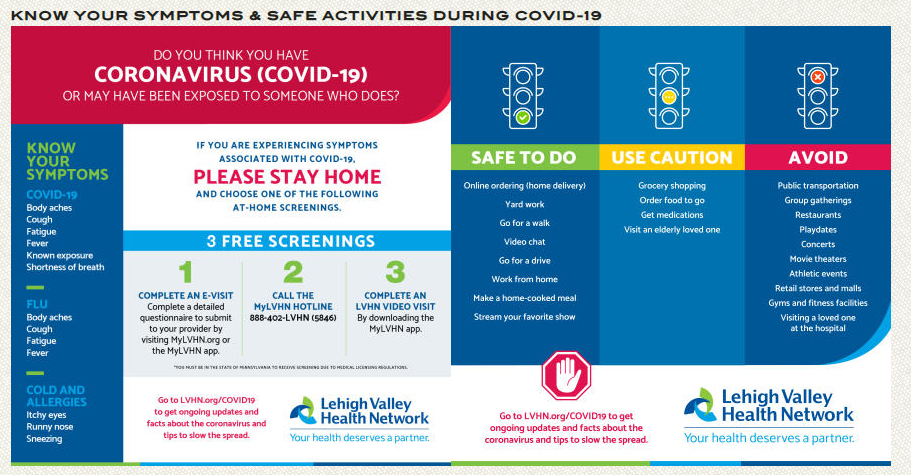 Stop the Spread, Stay Home, Stay Safe